Jumpstart Your Career: Apply Now to Become a Capital Fellow

Dear Friends,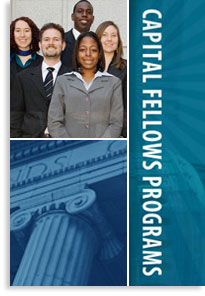 From learning tips of the trade to expanding your professional network, meaningful work experience early in a career is invaluable. That is why I am thrilled to share an exciting paid fellowship opportunity with you. Recent college graduates, post-graduates and mid-career professionals are invited to apply for one or all of the Sacramento State Capital Fellows Programs. The Capital Fellows Programs offer a unique opportunity to participate in California State policymaking and development through a 10-11 month Fellowship in a legislative, executive, or judicial branch office.
Voted three years in a row (2010, 2011 & 2012) as one of the Top 10 internships nationwide by Vault.com, the Capital Fellows Programs were ranked highly for their combination of meaningful work experience and career opportunities. Many Capital Fellows move on to pursue high-profile careers in public service. Former fellows include a Justice of the California Supreme Court, members of the United States Congress and the State Legislature, a deputy director of the Peace Corps, state and local government officials, corporate executives and community leaders.
I invite you to learn more about the programs and apply here: www.csus.edu/calst/programs. Please keep in mind that applications for the 2013-14 fellowship year are due by February 11, 2013.
If you have questions about the Capital Fellows Programs, please don't hesitate to contact my office (818) 376-4246 or the Sacramento State's Center for California Studies at (916) 278-6906, calstudies@csus.edu.
I hope you take advantage of this exciting opportunity.
Sincerely,

Adrin Nazarian
Assemblymember, 46th District