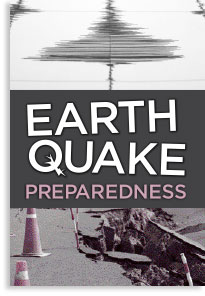 Earthquake Early Warning System, 30% Seismic Retrofit Tax Incentive, & Brace + Bolt Expansion will Protect Property, Save Lives, and Creates Jobs
(Sacramento, CA) Today, Assemblymember Adrin Nazarian (D-Sherman Oaks), Chair of Assembly Budget Subcommittee #4, announced his earthquake preparedness budget priorities for 2016 - 2017 fiscal year.
"It is not a question of if, but when an earthquake strikes.  We must take immediate steps to protect property and save lives," stated Assemblymember Adrin Nazarian.  "We need to expand our residential Brace + Bolt program, incentive property owners to seismically retrofit their large apartment buildings, and this year fully fund a state-of-the-art earthquake early warning system." 
"Every second matters in an earthquake.  An early warning system gives people time to duck and cover, slow our trains and subways, open elevator doors, and shut down gas lines," stated Assemblymember Nazarian.  "Let's get this done." 
United States Geological Survey seismologists predict a major temblor is likely to strike California within the next 30 years, causing serious damage to millions of homes and residential structures.
The Earthquake Preparedness Package includes three main components:
Earthquake Early Warning System
30% Seismic Retrofit Tax Incentive
Expansion of the Brace + Bolt program
The Earthquake Early Warning System would require $23 million to build-out the infrastructure and $12 million annually to fund the early warning system.  Once fully funded, the early warning system can be operational in under two-years.
The 30% Seismic Retrofit Tax Incentive, formerly Assembly Bill 428, passed the Legislature with overwhelming support, but was vetoed by Governor Brown.  The Governor argued that tax credits should be included in Budget negotiations.   
The key components of Assembly Bill 428:
Establishes a 5 year 30% tax credit for qualified costs associated with Seismic Retrofit for qualified owners of an "at-risk property." The tax credit is awarded upon completion of Seismic Retrofit.
Authorizes the Franchise Tax Board to administer the credit on a first come first serve basis, through a process of local certification.
Provides that a municipality's local agency with jurisdiction for building code and safety enforcement certify an "at-risk building" located within their area. 
Defines an "at-risk property" as a building that is deemed hazardous and in danger of collapse in the event of a major earthquake and is certified as so by the appropriate local jurisdiction with authority for building code enforcement, including but not limited to, soft story buildings, non-ductile concrete residential buildings, and pre-1980 concrete residential buildings.
Provides what type of Seismic Retrofit Construction qualifies under the credit to mitigate seismic damage.
The tax credit will be capped at $12 million annual, plus any carryover of unused funds from the prior year.  
"We need to act decisively now to protect our State from senseless and preventable loss of life and property," stated Assemblymember Nazarian.  "We know 'soft-first-story' buildings, built prior to 1980, and 'non-ductile reinforced concrete' buildings, built prior to 1980, are vulnerable."
Recent findings by UC Berkley researchers identify 1,500 concrete buildings that are seismically vulnerable in just the Los Angeles area. The researchers state that in the event of a huge earthquake 75 are likely to collapse.  
The Brace + Bolt Expansion is a program offered through the California Earthquake Authority that provides $3,000 to assist homeowners in decreasing the potential for damage to their houses during an earthquake. A residential seismic retrofit strengthens an existing house, making it more resistant to earthquake activity such as ground shaking and soil failure, by bolting the house to its foundation and adding bracing around the perimeter of the crawl space.
Together, Assemblymember Nazarian and Insurance Commissioner Dave Jones successfully expanded the program in last year's budget to over 1,000 new homes across 100 new zip codes. 
The mitigation program provides homeowners up to $3,000 to strengthen their foundation. A typical retrofit may cost between $2,000 and $10,000 depending upon the location, the size of the house, and the amount of work involved. Houses that meet the state building code retrofit criteria typically were:
Constructed before 1979;
Built on a level or low slope site;
Constructed with a four-foot (or less) cripple wall under the first floor;
And have a raised foundation.
As Chair of the Assembly Budget Subcommittee #4, Assemblymember Nazarian is committed to championing these three programs throughout the entire budget process.
Adrin Nazarian represents the 46th Assembly District, serving the San Fernando Valley communities of Hollywood Hills, Lake Balboa, North Hills, North Hollywood, Panorama City, Sherman Oaks, Studio City, Toluca Lake, Valley Glen, Universal City, Van Nuys, and Valley Village.