For immediate release:
Dana Alpert
Legislative/Communications Assistant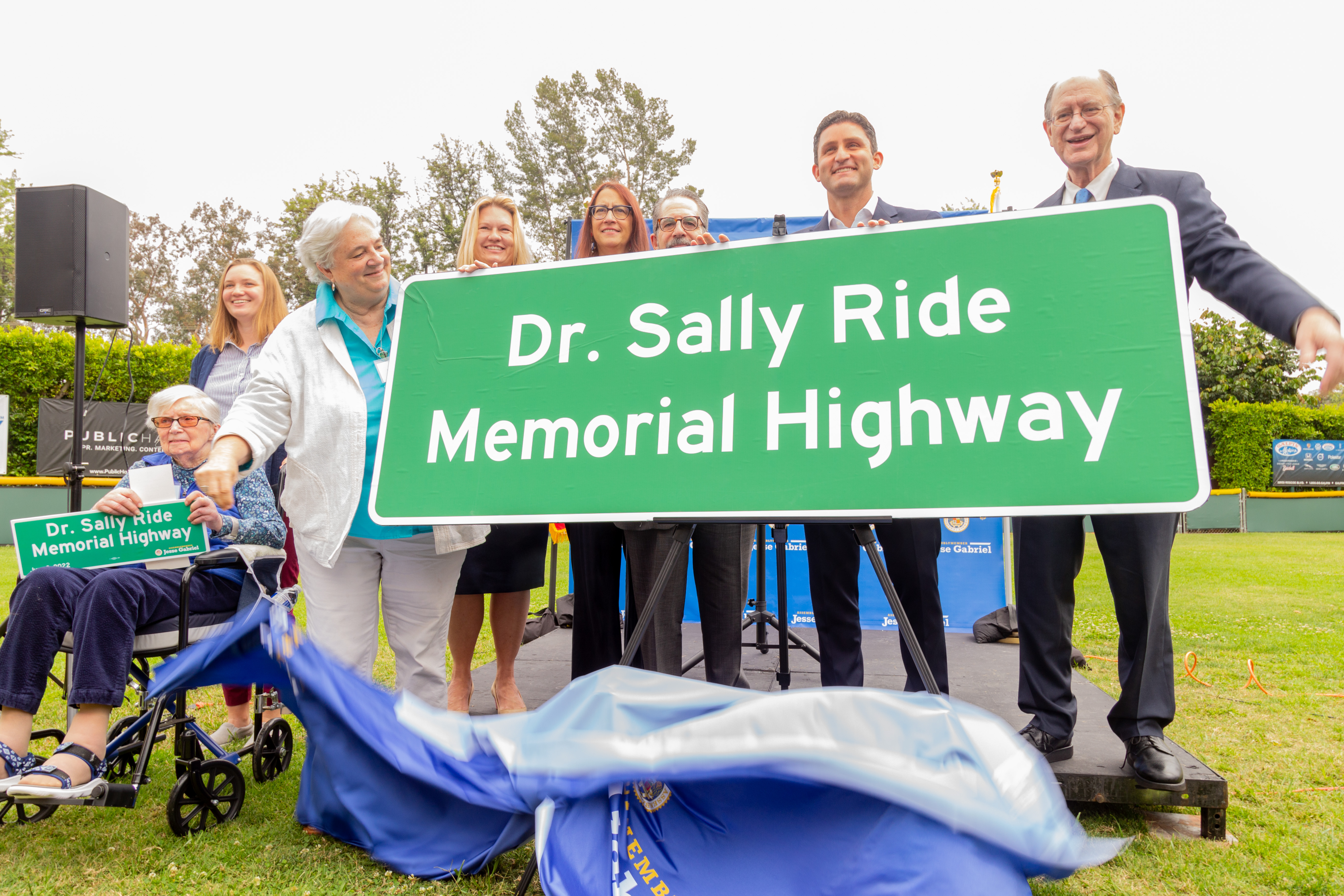 LOS ANGELES, CA — Today, Assemblymember Jesse Gabriel (D - Woodland Hills) hosted a formal ceremony to designate a portion of State Highway 101 in the West San Fernando Valley as the Dr. Sally Ride Memorial Highway. A beloved American hero, Dr. Sally Ride grew up in Encino and in 1983 became the first American woman in space before she passed away from cancer in 2012. Dr. Ride is also the earliest space traveler to be recognized as part of the LGBTQ+ community.
"As the first American woman in space, Dr. Sally Ride made history when she shattered the highest glass ceiling," said Assemblymember Gabriel. "A proud Valley native, her legacy continues to inspire young people—especially young women and girls—to reach for the stars, and I am immensely proud to help rename a portion of the 101 in Encino in her memory."
A graduate of Stanford University, Dr. Ride began her professional career as an astronaut in 1978 when she was selected as one of only 35 people out of the 8,000 applicants to be part of NASA Astronaut Group 8. In 1983, Ride became the first American woman in space as a crew member on Space Shuttle Challenger for STS-7. Ride's second space flight was STS-41-G in 1984. Ride remains the youngest American astronaut to have traveled to space, having done so at the age of 32.
"Sally's message to any kid going into STEM was to reach for the stars," said Reverend Dr. Bear Ride, Dr. Sally Ride's sister. "This event dedicating a portion of Highway 101 to Sally's legacy and achievements was another stretch in the reaching for those very stars."
Ride encountered a number of obstacles throughout her career, including gender-biased media questions about whether the flight would affect her reproductive organs or whether she cried when the crew found malfunctions. Through all the difficulties, Ride remained resilient, insisting that she saw herself only one way—as an astronaut. Not only did Ride serve NASA in space on two flights, but she also was the only person to be appointed to help investigate both the Challenger and Columbia space shuttle disasters.
Ride retired from NASA in 1987 and began to teach, dedicating herself to encouraging children, especially young girls, to love science. In 2001, Ride and her partner, Tam O'Shaughnessy, co-founded Sally Ride Science, an education company devoted to helping kids pursue science. She tragically passed away in 2012 at the age of 61 following a battle with pancreatic cancer.