For immediate release:
Dana Alpert
Legislative/Communications Assistant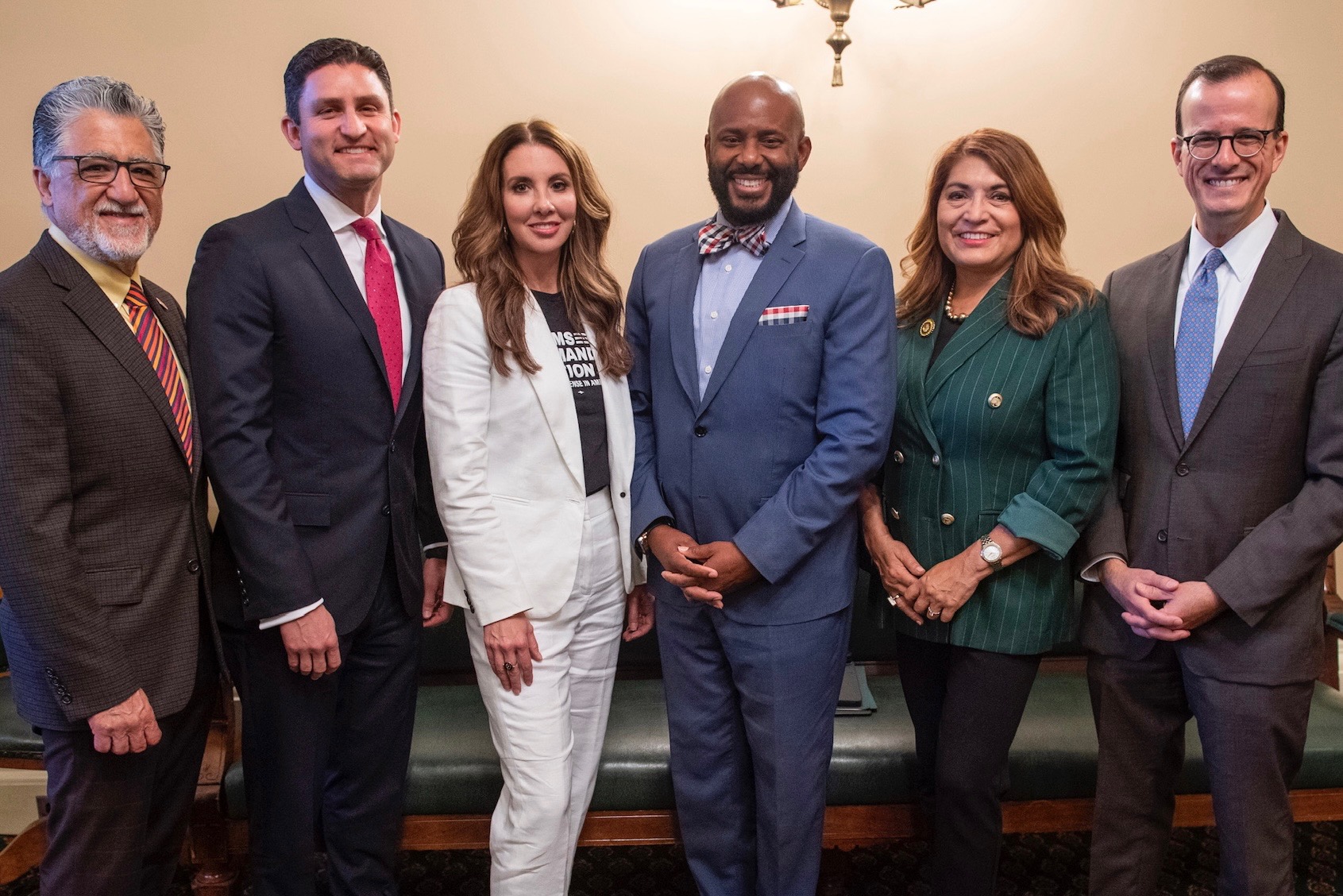 SACRAMENTO, CA — Today, the California Legislative Gun Violence Prevention Working Group, chaired by Assemblymember Jesse Gabriel (D-Woodland Hills) and Assemblymember Buffy Wicks (D-Oakland), met with Moms Demand Action founder Shannon Watts to discuss recent efforts to pass new common-sense gun safety laws in California.
This meeting follows a tragic series of gun violence incidents and spike in mass shootings across the country—including Uvalde, Texas; Buffalo, New York; Highland Park, Illinois; Sacramento, California; Brooklyn, New York; Laguna Woods, California; Tulsa, Oklahoma; and Philadelphia, Pennsylvania. There have been 300 mass shootings in 2022 thus far. The surge in gun violence comes as firearm purchases rose to record levels in 2020 and 2021, with more than 43 million guns estimated to have been purchased. At the same time, the rate of gun deaths has hit the highest level since 1995, with more than 45,000 fatalities each year.
"California continues to lead the way on gun safety thanks in large part to the incredible leadership of the Gun Violence Prevention Working Group," said Shannon Watts, founder of Moms Demand Action and California resident. "Our grassroots army of Moms Demand Action and Students Demand Action volunteers are proud to work with these gun sense champions to pass life-saving and innovative new laws to tackle our gun violence epidemic. It was an honor to meet with such passionate leaders today to celebrate the incredible progress we've made and prepare for future efforts to come."
"While Congressional Republicans have blocked progress on many common-sense reforms, the Gun Violence Prevention Working Group has worked tirelessly to advance new gun safety measures at the state level," said Assemblymember Gabriel. "We are proud of these new laws and are committed to continuing to do everything in our power next year to ensure that California leads the nation in preventing mass shootings and gun violence."
"Our number one job as legislators is to keep our communities safe—and on the issue of gun violence, our country is failing horrifically," said Assemblymember Wicks. "While we have strong gun violence prevention laws here in California, there's still so much more that can be done. We must do everything in our power under state law to strengthen protections for our communities, and be an example for other state legislatures to take action where federal policy is falling short."
The Legislative Gun Violence Prevention Working Group was founded in 2019 by a group of impassioned lawmakers frustrated by a lack of action from the Trump administration. Since then, the Working Group has successfully passed numerous new gun safety laws, secured millions in funding for violence prevention programs, and reached out to other states to strengthen cooperation on gun safety measures.
The bills advanced by the Working Group this session include:
Assembly Bill (AB) 2156 by Assemblymember Wicks: closes loopholes that currently allow individuals and corporations to manufacture large numbers of firearms without complying with standard manufacturer requirements

AB 1929 by Assemblymember Gabriel: expands funding for lifesaving gun violence prevention efforts by providing Medi-Cal reimbursement for violence prevention programs

AB 2571 by Assemblymember Rebecca Bauer-Kahan (D-Orinda): prohibits the marketing of firearms to children and minors

AB 452 by Assemblymember Laura Friedman (D-Glendale): requires the California Department of Education to provide notifications to schools and parents regarding safe firearm storage

AB 1621 by Assemblymember Mike Gipson (D-Carson): increases public safety by further restricting "ghost guns" and the parts and kits used to build them, while protecting the rights of legal gun owners in California

AB 2551 by Assemblymember Kevin McCarty (D-Sacramento): requires the Department of Justice to notify local law enforcement of attempted firearms and ammunition purchases by prohibited persons

AB 2552 by Assemblymember McCarty: ensures proper background checks and increases the safety and oversight of gun shows in California

Senate Bill (SB) 915 by Senator Dave Min (D-Irvine): enacts a total ban on gun shows held on all state property, including California's 74 fairgrounds

SB 1384 by Senator Min: strengthens gun dealer safety standards by requiring federally licensed firearm dealers to carry general liability insurance and on-site digital surveillance systems to prevent illegal sales

AB 1594 by Assemblymember Phil Ting (D-San Francisco): empowers California citizens, the California Attorney General, and local governments to sue manufacturers and sellers of firearms for the harm caused by their products when state law isn't followed
"I applaud Governor Gavin Newsom for signing my bill AB 1621 (ban on ghost guns) into law and for his leadership and unwavering commitment to justice and improving the safety and overall quality of life for all Californians, leading the way for the nation to follow," said Assemblymember Gipson. "In countless communities in the state of California and across the nation, gun violence is at its worst, and the biggest fear for our families is that it reaches someone they know and love. Public safety must not be taken for granted, and we must stand together and continue to implement solutions, like AB 1621, to eradicate the rampant wildfire of gun violence currently ravaging our streets and safe-havens."
"As other states roll back gun-safety measures following the SCOTUS ruling earlier this summer, California is working harder to ensure firearms are safely stored away from children and teens," said Assemblymember Friedman. "The fact that gun violence is the leading cause of death for children in this country is inexcusable. We know that safe storage can save lives. That's why I am so pleased that after three long years, AB 452, my bill to annually notify parents of safe gun-storage laws, is finally crossing the finish line."
"At a time when the specter of gun violence looms everywhere, California has shown, once again, what is possible when elected leaders have the political courage to act against gun violence," said Senator Min. "It is my hope that these bold and lifesaving measures will be a model for other jurisdictions to follow."