For immediate release:
Dana Alpert
Legislative/Communications Assistant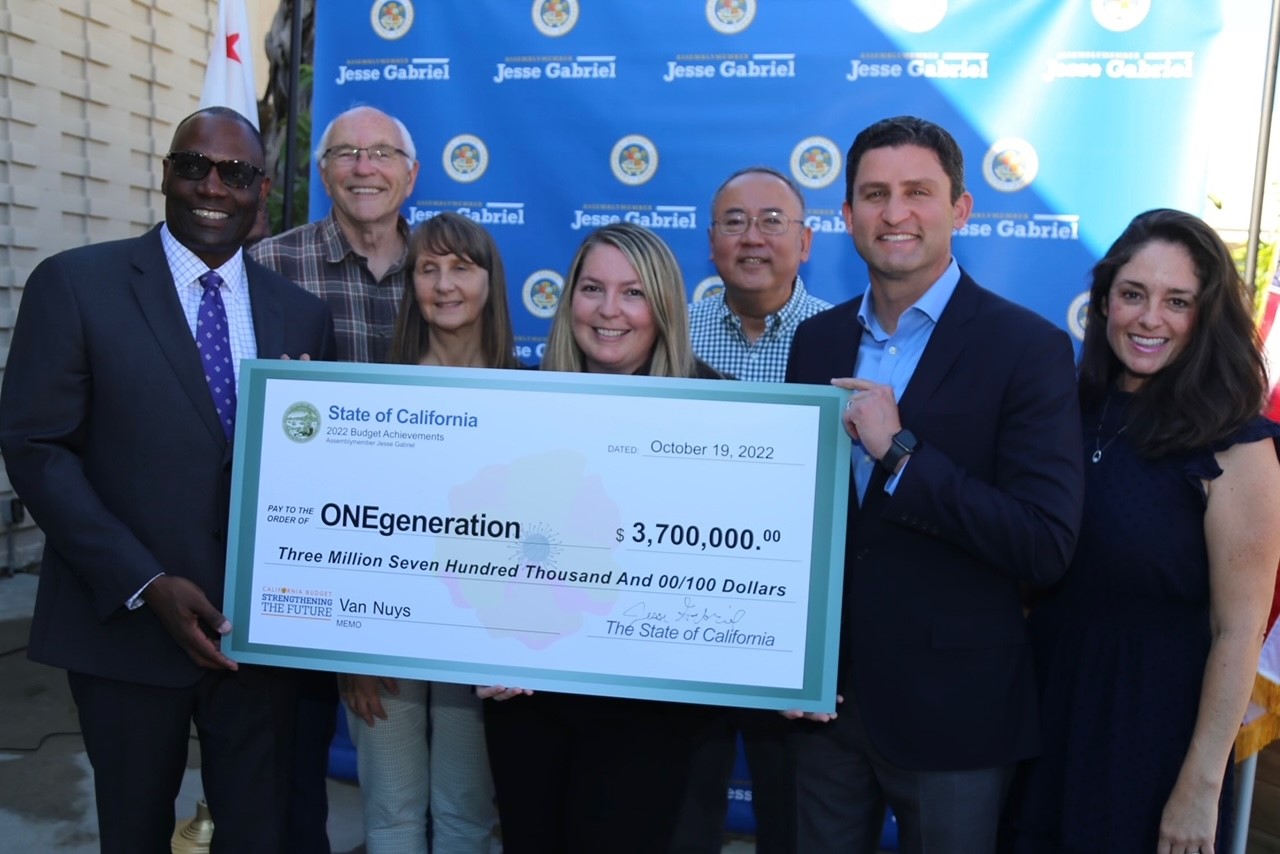 LOS ANGELES, CA — Today, Assemblymember Jesse Gabriel (D - Woodland Hills) presented a novelty check to ONEgeneration symbolizing the recent appropriation in the state budget of $3.7 million to support the construction of new classrooms, play areas, and an intergenerational activity room that will allow ONEgeneration to significantly expand its childcare services in the San Fernando Valley.
"As the parent of three young kids, I know that childcare is of vital importance, particularly for working families," said Assemblymember Gabriel. "ONEgeneration is a trusted community partner that has done incredible work to enrich the lives of seniors, kids, and families in the San Fernando Valley. Their inclusive approach to childcare honors the wonderful diversity of our community and they have always made a special effort to serve low-income families. I am proud to have secured this funding in the state budget and I am excited that these new facilities will serve so many kids and families in our community."
"ONEgeneration is proud to continue to expand services that meet the needs of our community," said Jenna Hauss, President & CEO of ONEgeneration. "Currently in LA County, licensed childcare centers only have the capacity to serve thirteen percent of working parents with infants and toddlers. The Childcare Expansion Project will allow for an additional 100 children and working families to have access to quality, intergenerational childcare. ONEgeneration is thankful for the continued partnership and support of Assemblymember Jesse Gabriel and looks forward to the expansion of childcare services for San Fernando Valley residents."
Founded in 1978, ONEgeneration's mission is to enrich the lives of seniors, children, and families in the West San Fernando Valley by fostering intergenerational relationships in a shared senior daycare and childcare setting. ONEgeneration began as a storefront senior center operated by volunteers. As demographics changed and senior lifespans increased, ONEgeneration expanded and evolved to meet the community's needs at their Senior Enrichment Center, Adult Daycare/Adult Daycare Health Center, and in the seniors' own homes. In 1994, ONEgeneration also added a childcare program to bolster its commitment to intergenerational services and programs.
Throughout the West Valley, ONEgeneration serves a wide array of community members with diverse ethnic and racial backgrounds, including families and children from over 24 countries of origin who speak Armenian, Farsi, Yiddish, Spanish, Tagalog, Mandarin, and more. Program participants include low-income and homebound seniors, at-risk youth such as foster children and teen parents, developmentally disabled children and adults, individuals with long-term illnesses such as cancer, HIV/AIDS, or Parkinson's Disease, as well as elderly and youth caregivers.
The budget allocation secured by Assemblymember Gabriel will support an expansion project located at ONEgeneration's JOY Campus (Joining Old and Young) in Van Nuys, home to the current Childcare/Preschool program. The expansion will include an 8,500 square-foot building to house an additional seven classrooms, connecting playgrounds, and a 1,000 square-foot intergenerational activity room to host ongoing and new childcare activities, workforce development opportunities and staff training, parent group meetings, and daily intergenerational engagements between Adult Day Care participants and childcare/preschool students. These additional seven classrooms will expand vital access and childcare placement for children and their families, a majority of who will remain in the program for the full five years of their early development. A percentage of the spaces will be made available for low-income families, offering reduced tuition rates on a sliding scale and private funding support to establish a Tuition Assistance Program.