Legislation Would Protect Children and Families by Prohibiting the Manufacture, Sale, and Distribution of Foods Containing Certain Toxic Chemicals that Are Already Banned in the European Union
For immediate release:
Dana Alpert
Legislative/Communications Assistant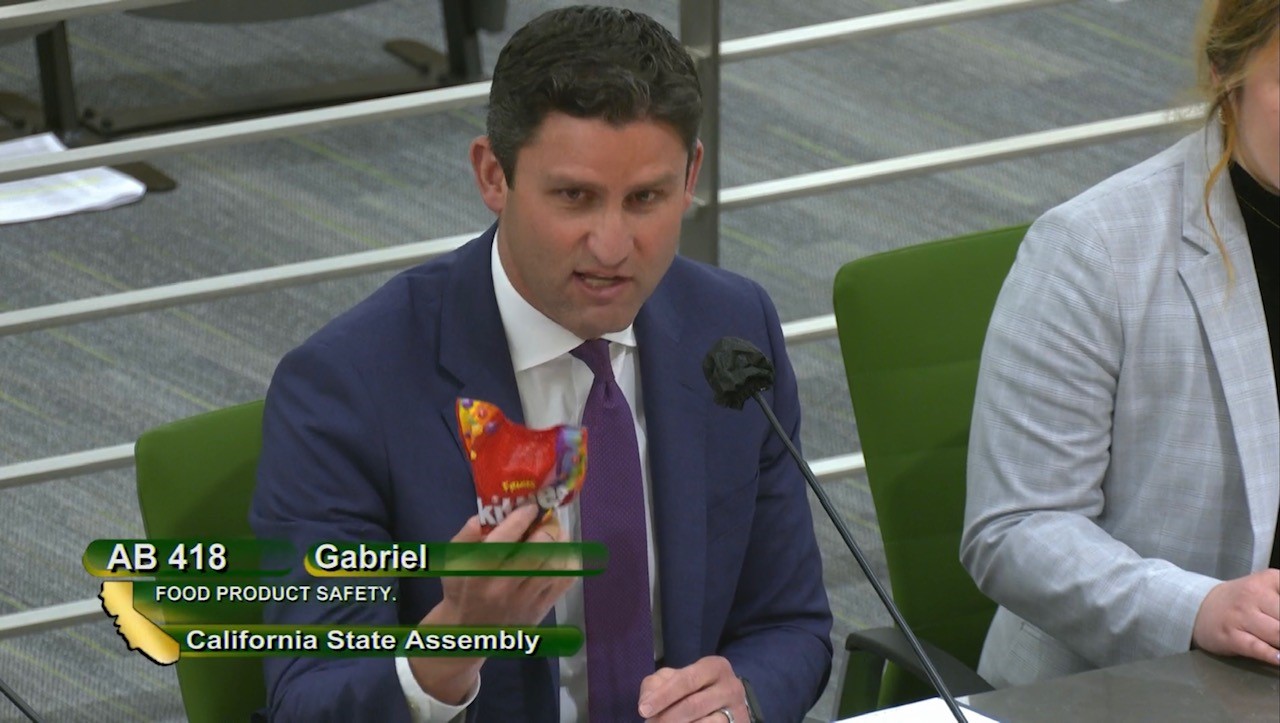 SACRAMENTO, CA — Yesterday, legislation authored by Assemblymember Jesse Gabriel (D - Woodland Hills) to ban the sale of processed foods containing certain dangerous and toxic chemicals passed out of the Assembly Health Committee with bipartisan support. A first-of-its-kind measure, Assembly Bill (AB) 418 would prohibit the manufacture, sale, or distribution of any food product in California containing Red Dye No. 3, Titanium Dioxide, Potassium Bromate, Brominated Vegetable Oil, or Propyl Paraben. Each of these chemicals is currently banned in the European Union (EU) due to scientific studies that have demonstrated significant public health harms, including increased risk of cancer, behavioral issues in children, harm to the reproductive system, and damage to the immune system.
Many of the dangerous additives currently banned in the EU and other nations are found in processed foods and candies that are marketed disproportionately to children, low-income consumers, and communities of color. In countries where these toxic chemicals are banned, manufacturers have updated their recipes and replaced the additives with safer alternatives. During the Assembly Health Committee hearing, Assemblymember Gabriel showcased Skittles purchased in Denmark and France, both of which contain no trace of Titanium Dioxide–the toxic chemical currently found in Skittles in the United States.
"There is no realistic chance that this bill will result in Skittles or any other product being pulled off the shelf," said  Assemblymember Gabriel, Chair of the Assembly Committee on Privacy and Consumer Protection. "The idea here is for these companies to make minor modifications to their recipes so that these products no longer include dangerous and toxic chemicals. Skittles and many other brands have already made changes to their recipes in the EU, the United Kingdom, and other nations where these chemicals are banned. While the chemical companies might want you to believe we're going too far with this bill, we are in fact many steps behind the rest of the world. We simply want our kids to have the same protection."
"For decades, the FDA has failed to keep us safe from toxic food chemicals," said Scott Faber, Senior Vice President of Government Affairs at Environmental Working Group. "The chemical companies keep exploiting a loophole that allows for food additives that have not been adequately reviewed for safety by the FDA. The FDA consistently fails to reassess chemicals, even in light of new science. The confectioners and the food industry know the review process at the FDA is broken. In the absence of federal leadership, it's up to states like California to keep us safe from dangerous chemicals in candy, cookies, and other foods our families enjoy."